There are many different ways to incorporate wood into your home decor. You can make book shelves from narrow logs, or use a variety of cuts to create a welcoming welcome sign. You can even create a wall clock made of different-sized wood pieces. A gallery of wooden home decor ideas can help you get started. Here are some of the most beautiful options for your home. All of these decorations can be customized to suit your personal style.
Wooden home decor is also a great way to create a different look and feel.
Some pieces are as simple as a wooden crate that serves as a shelf, while others are more elaborate and sophisticated. Whether you're trying to create a contemporary or classic look, there's a wood accent to fit the theme you've chosen. A carved wooden sculpture can look sleek on a glass or metal table, and it will bring out the warm color palette of the room. You can also find a beautiful wooden candle holder to accent your tabletop.
In addition to using wooden home decor to create a distinctive and unique look for a festive occasion, you can use it on a daily basis to add a touch of sophistication and a unique atmosphere. There are many options to use wooden accessories in your home, from table tops to flower pots. They also make great DIY accessories and can be used to accent any space in your home. Whether you are planning to use them for home decoration or as gifts, you can be sure that they will make your home look stunning and add value.
A family initial decoration can add an interesting and unique touch to a mantel or row of cherished pictures. It is easy to make and requires only a few tools. It makes a great wedding shower gift or a unique addition to a bedroom. A decoupaged wooden bin can also add decorative storage for your home. You can use it for incoming mail or to hold your morning essentials. It's great for storing incoming mail or putting away your essentials when you're not at home.
Wooden Wall Hanging Decor
When you are looking for an artistic gift for a loved one, you might consider a wooden wall hanging decor. Wooden wall hanging decor can add both a royal heritage and chic flair to your home. They can also be used as a decorative accent and can bring your room to life. Here are some ideas that you can use to create your very own wooden wall hanging decor. Whether it's for a gift for someone special or a keepsake for yourself, a wooden wall hanging decor is sure to please the recipient.
A carved wood animal head makes an ideal gift for a child's room. It also adds a touch of fantasy to the room. A jigsaw deer head framed in white would look lovely in a child's room. Carved wooden animal masks make attractive hallway or child's room decor. These unique and colorful pieces will surely add flair to any room. Wooden wall hanging decor is a great way to add character to your room and enhance the decor of your home.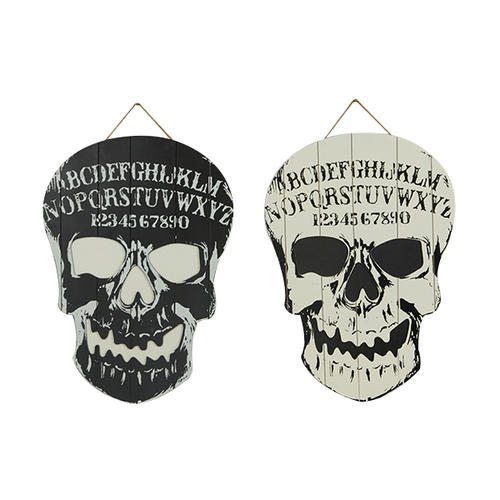 Wooden Halloween Skull Hanging Decor
Wooden holiday,Ornament , Homeldecoration
| | |
| --- | --- |
| Material: | Natural wood,MDF,Plywood |
| Size: | As your require |
| Color: | From Pantone color |
| Style: | Christmas,Halloween,Harvest,Easter,ect. |
| Interlining: | 100%polyester |
| Packing: | 12/24pcs/Carton |
| Sample delivery time: | 5-7 days |
| Order delivery time: | 35-55 days |
| Service: | OEM,ODM is acceptable |