Harvest Decoration is a versatile way to decorate your home for any season.
It can be a simple monochromatic color scheme, or it can include corn husks dyed different shades of purple to create an interesting ombre effect. Decorative corn and gourds are also great choices, as are cornucopias.
Cornucopia
Adding a cornucopia to your home during the fall and harvest season is a great way to add a pop of fall color to any room. It is lightweight and stands alone on a table or other flat surface. These colorful decorations are available in two different wood frame colors.
The cornucopia is a traditional symbol for harvest and gratitude. It is also a good symbol for prosperity. This harvest decoration is often placed on the table during Thanksgiving or on the mantel of the kitchen. It's a symbol of abundance and good luck, and is also commonly found on the coat of arms of many countries.
Apples
Apples are a traditional symbol of autumn and can be used in many ways as a harvest decoration. You can make a wreath or garland out of apples or use dried apples for a unique centerpiece. You can also combine them with fall foliage or berries to make a stunning display.
Apples are also great for table decorations. They can be wrapped in a white cloth and placed in a vase with other fruits. You can also bake apples around a campfire or string them on sticks. Apples can also be used as candles. They look beautiful and are also easy to make.
Decorative corn
You can use decorative corn as harvest decoration in many ways. This colorful vegetable turns golden after 5 days, making it an ideal choice for autumn home decor. Corn stalks are also a great way to decorate your home during the autumn season. However, you must be careful not to leave the corn out in bright sunlight, which may cause the colors to fade.
You can also use corn stalks as table decorations or wreaths. You can tie them together with twine or ribbon and display them in a vase. You can also add mums to the arrangement to give it a natural fall theme.
Decorative gourds
There are several ways you can use decorative gourds for your harvest decoration. The most common types are those of the Cucurbita pepo species. They are flower-printed, long-necked, water-carrying fruits. You can also try Lageneria gourds, which look like teardrop-shaped watermelons.
Curing gourds is a great way to preserve them for several years. The interior wall of a dried gourd is similar to wood, so they're not dishwasher-safe, but you can use them as bowls or decorative bowls. You can also carve, paint, or stain them. Once dry, you can also use them in crafts such as birdhouses and baskets.
Another way to use decorative gourds is in creating fairy houses. They make cute little houses, and you can either hang them from the ceiling or attach them to the walls. They add a magical harvest feeling to any room. You can place dried flowers and dried corn bundles inside. They're light enough to move from place to place, and they'll add a festive touch to any space.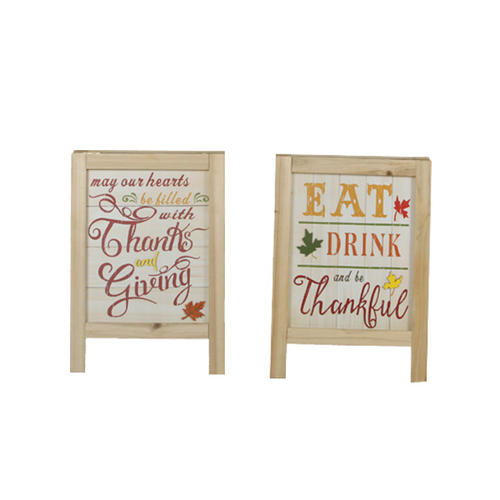 Blackboard Shape Wooden Ornament Table Top
Wooden holiday,Ornament , Homeldecoration
| | |
| --- | --- |
| Material: | Natural wood,MDF,Plywood |
| Size: | As your require |
| Color: | From Pantone color |
| Style: | Christmas,Halloween,Harvest,Easter,ect. |
| Interlining: | 100%polyester |
| Packing: | 12/24pcs/Carton |
| Sample delivery time: | 5-7 days |
| Order delivery time: | 35-55 days |
| Service: | OEM,ODM is acceptable |