Creating an Easter Decoration can be fun and rewarding.
You can create a colorful Easter door wreath using napkins in various patterns. You can also use a monochromatic pattern to create a more cohesive look. You can also create a sugared citrus fruit wreath that will look great all season long. Alternatively, you can decorate plastic eggs with translucent glitter and attach them to a grapevine wreath.
Crafts to "egg-joy" the day
Easter is a jolly holiday full of colorful decorations, Easter egg decorating, scavenger hunts, and a variety of crafts. While coloring, dipping, and decorating eggs are all traditional, there are countless other ways to mark the holiday. In addition to dipping and decorating eggs, you can also make a variety of other fun crafts, such as bunny crafts or rabbit crafts.
Decorating an Easter table
Decorating an Easter table can be a fun way to celebrate this traditional religious holiday. Not only does it offer a break from the regular school schedule, but it's also a great excuse to indulge in chocolate for breakfast! For your table, stick to a simple yet stylish design. Consider using linen tablecloths to add a rustic touch.
For the centerpiece, go for soft green or pink, or light yellow or lilac. You can also use green as the dominant color and use other tones for other decor elements. White dishes and crystal vases are great choices for this springtime table. These simple tips will help you create a beautiful Easter tablescape.
Easter table decorations can include everything from ceramic animals to paper napkins. Adding ceramic eggs or pastel flowers is a fun way to add color to a table. You can also use glass vases to place eggs on the table. Try to match utensils to the rest of the decor, so that you have a cohesive look. You can even tie dyed eggs to napkins to make them look extra special.
Decorating an Easter tree
Decorating an Easter tree is a fun way to celebrate the holiday. It will add a festive spring flare to your home and it's easy to make. Using plastic eggs that you've dyed and hollowed out, you can make an Easter tree that your kids will love. You can also add glitter to the eggs to make them look extra festive.
The Easter tree can be decorated in many ways, including hand-painted designs or photos. You can even hang hand-written quotes or Bible verses on the branches. You can also use leftover ribbon to create decorations or hang fresh blooms from your garden. In addition, you can put eggs and other small decorations inside the tree.
Making an Easter tree is a fun family project and is an inexpensive way to decorate a beautiful spring tree. You can make one from bare branches or buy artificial branches. You can also go nature hunting for twigs that are suitable for the holiday. Small, thin limbs will work best.
Decorating an Easter mantel
Decorating an Easter mantel is an excellent way to welcome guests. You can find a variety of materials and supplies at large craft stores, and some local businesses. You can also shop online and find plenty of good quality options. Consider using pastels and Easter-themed colors to create a warm and welcoming feel.
Easter is fast approaching, so it's a great time to decorate your mantel with colorful decorations and natural elements. You can use garland, Easter bunnies, and a beautiful frame to create a festive atmosphere. You can even add a miniature spring garden to your mantel. Whatever you choose, remember to have fun while decorating.
Fresh flowers are a classic decoration for an Easter mantel. These bouquets bring a pop of color and are both elegant and easy to use. The spring-inspired flowers draw attention to the mantel and complement the mantel's white pitcher. Another fun option for decorating an Easter mantel is to display an Easter bunny figurine, such as one from 2 Bees in a Pod. The figurine is reusable, so you can reuse it year after year.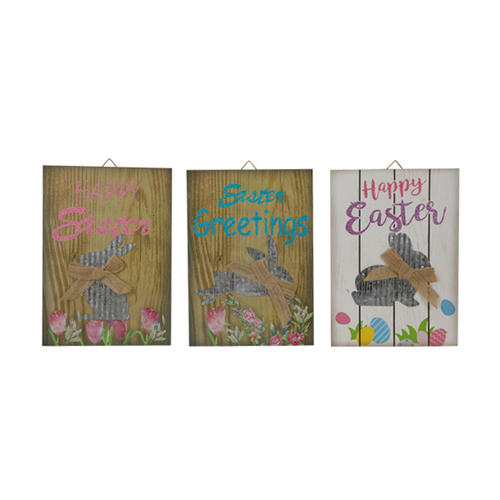 Custom Easter Plaque Wall Hanging Ornament
| | |
| --- | --- |
| Material: | Natural wood,MDF,Plywood |
| Size: | As your require |
| Color: | From Pantone color |
| Style: | Christmas,Halloween,Harvest,Easter,ect. |
| Interlining: | 100%polyester |
| Packing: | 12/24pcs/Carton |
| Sample delivery time: | 5-7 days |
| Order delivery time: | 35-55 days |
| Service: | OEM,ODM is acceptable |